"Again, I tell you that if two of you on earth agree about anything you ask for, it will be done for you by my Father in heaven. For where two or three come together in my name, there am I with them." Matthew 18:19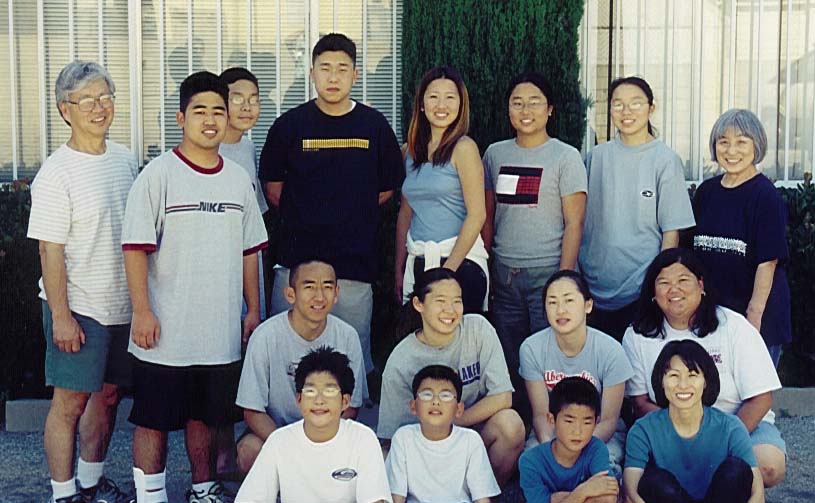 MI-CHAN HIROTSU- age 10: In the Matthew 28:19-20, Jesus told us to make disciples of all nations baptizing them in the name of the Father and to teach them to obey everything Jesus taught them. This is why I want to go to Brazil.
Requests: For safety, for someone to help me make new Christians, and pray that I will obey rules and sing from my heart.

YOSHI HIROTSU- age 15: This is my first mission trip and I want to be able to worship God through song and praise. I hope to build a stronger faith with God and to experience the Brazilian culture.
Requests: Safety, health, good experience with God, and strengthen my walk with Him by creating a strong bond between God and me.

SEIGO HA- age 11: I hope people will become Christians through our singing, praising God and by talking to them.
Requests: For people to become Christians, make new friends, and to pray more.

SAORI HA- age 18: After going to Japan in 1998, I learned a lot about my personal relationship with God. I returned with a stronger relationship with Him. I hope to experience that again. I would also like to see how people in a different culture praise and worship God. I hope to increase my knowledge of how God works in people's lives.
Requests: To be a good role model for my small group, for patience as we face the many changes, and unity within the choir.

SUNG HA- age 20: I hope to share the good news of Jesus Christ and that our singing will touch those who may not know God or who may be struggling with Him.
Requests: Confidence in talking with new people, safety, no conflicts among choir members.

JAIME MIZOGUCHI- age 22: It is an awesome opportunity to worship and fellowship with our brothers and sisters in Brazil. This new experience will certainly bless us. It would be neat to make new relationships, especially non-Christians. We can help plug them into churches and hopefully they will become curious about God. I also would like to help choir members realize the potential of serving God and to be able to worship together.
Requests: unity among all age groups, both churches, and group/choir leaders; flexibility because I love to have a plan to follow and also to joyfully serve at the last minute; focus on serving God and His people in Brazil; overcome and be at ease with the language barrier.

SATOSHI NAGO- age 21: I want to share my joy with God to others and experience their culture & worship.
Requests:: For the choir to sing joyfully, to smile because of our love for God, and to sing with a heart of worship rather than to just sing and smile; for sensitivity to the Brazilians since it's a new mission field for us; for patience with the younger ones and with the decisions of the choir.

JONATHAN NITAO-age 16: I hope our choir will spread the word of God and will be able to show God's love to the people in Brazil.
Requests: safety, good health, a wonderful experience for the choir to grow in their relationship with God.

AI-CHAN NOGIMURA-age 16: I want to strengthen my faith and have a good relationship with Jesus. I hope to make good friends and teach non-Christians about God and His love for us.
Requests: That we won't get mad at each other and willing to sacrifice our time for one another; for no accidents and nothing stolen; pray that the leaders will be patient with us.

MARI TAJII-age 17: I have been a Christian for a long time, but I am still not the best at evangelizing. With the choir, it is easier and like a team. I'm not really hoping to accomplish anything because I know that if I do, I will feel let down if it doesn't happen.
Requests: To not complain about what I don't have but to give thanks for what I do, even if it is little; for patience in "going with the flow;" to be humble.

KELLY ZORIKI-age 16: With the choir, I want to touch people's hearts and show them that God is working through young adults and kids. It is also an opportunity to do what God wants us to do as Christians.
Requests: To be patient and try not to complain about the obstacles (weather, long trip); grow as a Christian and strengthen my walk with God; safety and to keep in mind the reason we are in Brazil.

SCOTT ZORIKI-age 14: I want to make new friends, learn the language, to be strong, and to be able to teach people about God and show His love for them.
Requests: No one gets sick or injured; that we will be able to spread the Gospel to non-Christians and that they'll be able to do it themselves; I will learn from them as well as teach them about God and that I will become stronger in my walk with Him.